Kraków Medical Tourism Seminar 2022 is behind us
On Thursday, 15 December, the first Kraków Medical Tourism Seminar was held as a continuation of the Kraków Medical Tourism Congresses. The meeting addressed issues related to sports medicine and rehabilitation. The choice of topics responded to the increased interest in this interdisciplinary field in Kraków's medical offer.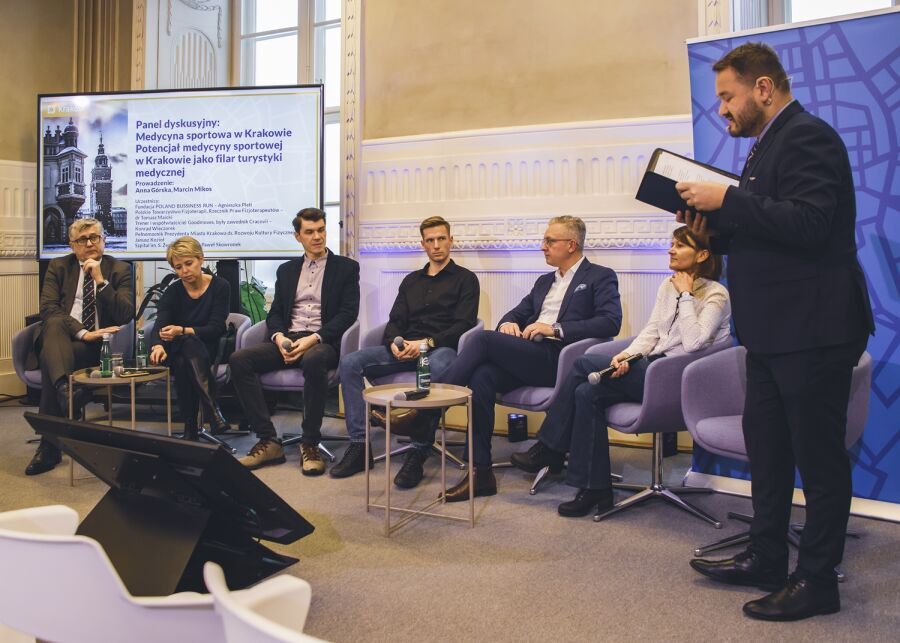 Medical tourism, understood as travelling outside one's region or country for treatment and rehabilitation purposes, is a steadily growing industry worldwide. The development and increasing globalisation contributed to the growing popularity of Kraków as one of the destinations for medical tourism. Furthermore, an upward trend in interest in Kraków's sports medicine offer has emerged in recent years. This aspect takes on particular importance in the context of the 3rd European Games, which Kraków will host next year.
Specialists from the world of medicine who work daily in Kraków's hospitals and clinics delivered lectures during the seminar. It concluded with a debate on the potential of sports medicine in Kraków as a pillar of medical tourism. The discussion was chaired by Anna Górska and Marek Mikos and attended by Agnieszka Pleti (POLAND BUSSINESS RUN Foundation), Dr Tomasz Maicki (the Polish Physiotherapy Association, Physiotherapist Ombudsman), Janusz Kozioł (Plenipotentiary of the Mayor of the City of Kraków for the Development of Physical Culture), Konrad Wieczorek (an athletic trainer, working with Polish Ekstraklasa players), and Dr Paweł Skowronek (the S. Żeromski Hospital).
The Municipality of Kraków organised the event. The event's partners included the Chamber of Industry and Commerce in Kraków and the Małopolska Tourist Organisation.
Show ticket
News author:
Małgorzata Rajwa
News Publisher:
Biuro Kongresów EN